My Brothers Olive Oil
Nov 1, 2018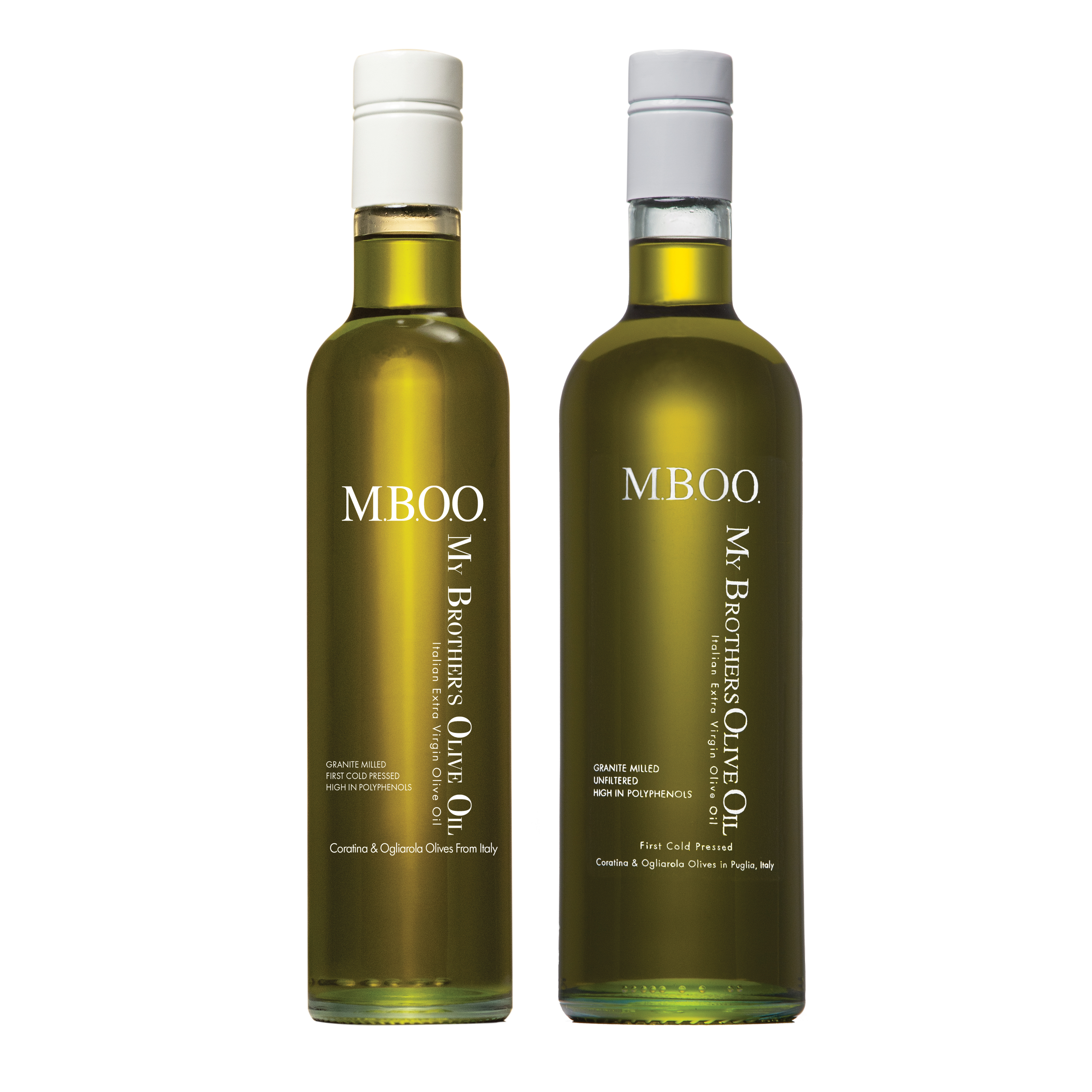 My Brothers Olive Oil ~ M.B.O.O.
For generations, the Nitti family of Puglia, loved and cared for a small hector of Olive Trees. As a young boy, John Nitti, founder of Isola Imports, and his brother Peppino developed a passion for the land. After the foundation of Isola Imports was established, it was John's vision to create a lasting symbol of family and homeland with My Brother's Olive Oil. Wanting to showcase the family heritage, the brothers worked together to bring to fruition what now is a 25 year history and family legacy in M.B.O.O. As demand increased for the Olive Oil beyond the small hector, the groundwork began in finding the perfect Olive Oil mill partner. Successfully we have been able to maintain our relationships in Apulia having the same passion as we did with the family small hectors.

Apulia, Southern Italy EVOO
Apulia, also known as Puglia, is the easternmost region in Italy, also known as "the heel of Italy". This long, narrow peninsula bordered by the Ionian and Adriatic Seas, is lush with fascinating landscapes and unspoiled nature. Home to approximately sixty million olive trees, Apulia is the leading producer of olives in Italy. According to data collected by Statista Research Department, in 2019 Apulia was responsible for producing 193,600 tons of olives, while regions such as Calabria and Sicily weighed in at 40,300 and 25,500 tons.
Ogliarola Olives
History
Ogliarola olives are commonly found in Basilicata, Campania, Apulia and Sicily, Italy. This species of olive tree has been around for well over a millennia, introduced to Ancient Romans and Messapi as far back as the sixth century. These olives bring more than just a unique flavor that has been desired for thousands of years; they also contain a very high amount of omega-9 fatty acid and are rich with antioxidants that, together, have proven beneficial in the prevention of chronic diseases.
Taste
These olives bring a deep fruity, freshly mown grass like aroma and a taste of sweet fruit with an aftertaste of almond and artichoke.
Health Benefits
Ogliarola olives are rich in polyphenols, triglycerides of oleic acid, and tocopherol (vitamin E). Polyphenols are powerful natural antioxidants that help protect against the oxidation of triglycerides (the main components of natural fats and oils). Oleic acid is a monounsaturated omega-9 fatty acid (also known as a healthy fat). Consuming oleic acid rich oils can reduce your blood pressure, regulate your LDL and HDL cholesterol levels, protect against neurodegenerative diseases, and it reduces overall inflammation. For those with type-2 diabetes, oleic acid helps to reduce blood sugar levels and insulin resistance, which is typical of this condition.
Coratina Olives
History
Coratina also known as 'Racioppa di Corato' 'were originally discovered in Corato, Italy. The Coratina olive tree adapts well to different climates and soils while maintaining its high amount of olive production. The trees can grow up to 30-40 feet tall and 25 feet wide. These olives are specifically known for their high content of phenolic compounds, thus for receiving the nickname "The Gold of Apulia".
Taste
These olives bring fruity aroma with strong hints of almond and mild hints of artichoke and tomato, accompanied by a sweet taste to start followed by the moderate to intense flavor of bitterness and spiciness.
Health Benefits
Coratina olives have a very high amount of polyphenol as well as high content of oleic acid. The polyphenol is a micronutrient that protects against the oxidation of triglycerides (the main components in natural fats and oils). It acts as a powerful antioxidant that reduces inflammation, which is the root cause of many chronic diseases. Not only is it beneficial to your health, the oxidation resistance enhanced by the polyphenols ensure a long and healthy shelf life, protecting its nutritional prowess as it ages.