Regional Cuisine of Central Italy
Regional Cuisine of Central Italy
Nov 1, 2018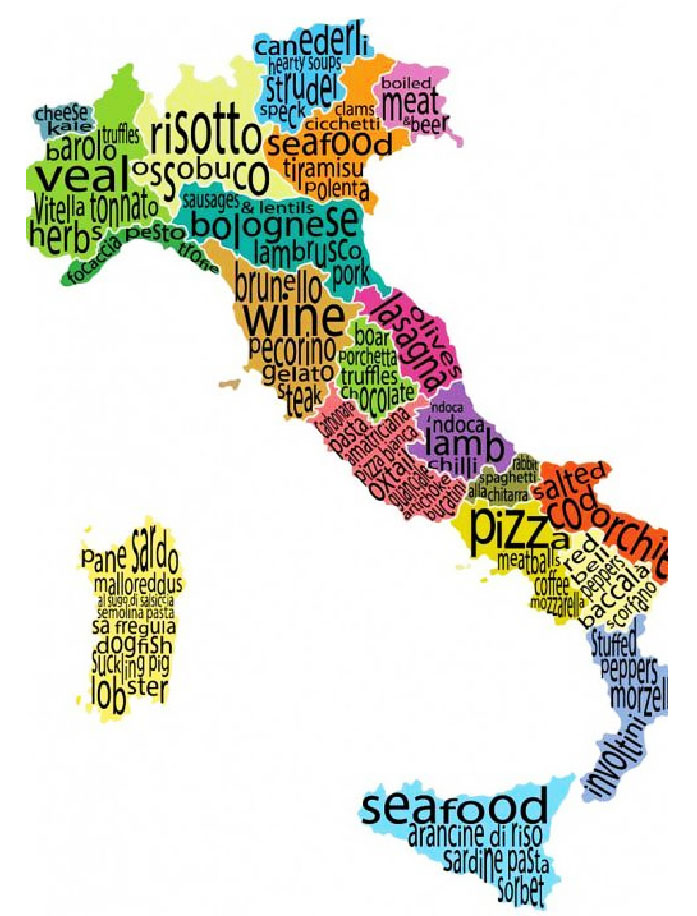 Italian food is more than pizza, pasta and tomato sauce. Each region of Italy has its own identity with distinctive flavors and products. Inspired by this diversity, Isola Imports was born. Isola meaning "island", we seek out these unique products from Italy to give customers an authentic Italian Experience. We have created this regional guide to display all the diversity of Italian food! Cook them for yourself or try something new on your trip to Italy.
CENTRAL ITALY
Central Italy is well known internationally as the home of Balsamic Vinegar from Modena, Truffles from Umbria, Prosciutto and Cheese from Parma, and much more. Due to the popularity of these different products internationally, many of them are protected with stamps of origin to distinguish them. This is so customers can ensure they are purchasing authentic products.
This regions cuisine is characterized by rich sauces, strong cheeses, and savory meats that all pair well together. The dishes are usually very simple in the number of ingredients, but contain local products which are why they taste so good! Many dishes include artichokes, pig, and lentils because of the popularity in the area especially in the mountains. Towards the coasts you can find more dishes with fresh seafood such as octopus, mullets, calms, and cuttlefish. Instead of using heavier butters like in the North, cooks from central Italy often use olive oils and pair many dishes with a glass of wine and bread. A night is going very well when the table orders another basket of bread and bottle of wine for all!
Read through 15 Famous Central Italian dishes:
Bistecca alla Fiorentina: Steak from Florentine is one of the most popular around the world. The Medici families in Florence are known for many things and one includes their passion for food. They are said to have created the dish during a great festival and it has been very famous since. The Steak is a cut between a the sirloin and the tenderloin and should be served rare, with course salt for seasoning.
Strozzapreti con tartufi: Strozzapreti is long twisted pasta similar to cavatelli and translated to mean "priest stranglers". It is well known pasta in Umbria to be paired with a truffle mushroom sauce with a few shaving of black truffles on top. This dish is difficult to find outside of this region because of the limited availability of truffles.
Brodetto: This is a seafood stew from the Marche region of Italy that contains 13 species of fish including mullets, cuttlefish or squids, then tossed in garlic, saffron, and olive oil. This dish can also be served by tossing the seafood in a flour base then fried. Along the coasts of Italy it is common to serve fresh seafood with garlic, oils and herbs to add a little more to the flavors without losing the fresh taste.
Spaghetti alIa Carbonara: There are many popular dishes from Rome that you can find all over the area. Spaghetti alla Carbonara is a simple dish made with egg yolks, parmigiano and pancetta. Black pepper is added to the dish to create an earthy finish to the sauce that is well blended and thick in consistency.
Cacio e Pepe: A simple dish similar to Spaghetti alla Carbonara, Cacio e Pepe is another famous meal in Rome. Meaning cheese and pepper it is just that. Instead of adding eggs and pancetta this dish showcases the delicious taste of parmesan taste and is even served in a cheese bowl!
Bruschetta and Panzanella: Very popular to enjoy as an apertivo (snack) or before a meal. Bruschetta is made from sliced toasted bread that is dipped in olive oil, basil and salt and usually paired with chopped tomatoes. Panzanella is similar but instead of being soaked in olive oil is soaked in tomato juice that is pressed from fresh tomatoes.
Panforte: A popular chocolate cake that is filled with almonds, candied fruits and honey it is wonderfully paired with an espresso.
Minestrone: This soup is easy to make and a great way to enjoy vegetables. It contains local vegetables from the area, olive oil and cannellini beans which are a popular white bean throughout Tuscany joked as the Italian kidney beans.
Lenticchie di Castelluccio con Salsicce: A simple lentil stew with sausages, these are two popular ingredients in Central Italy.
Sausage of Italy: Speaking of sausages they extremely popular and are made from many different parts of the pig. Barbozzo is made from the pigs cheek which is matured and cured. Budellacci sausage is spiced intestines that are smoked and enjoyed raw, roasted or broiled. Capocollo sausage contains garlic and pepper and Coppa sausage is made from the pigs head.
Artichoke: Artichokes are very popular and are served alla roma or alla giudia. Roman artichokes are bared of their leaves and tossed in garlic, breadcrumbs, and olive oil before being braised. Alla giudia are Jewish Styled artichokes that are fried in olive oil with there leaves being pulled apart similar to a flower.
Olive all'ascolana: These fried olives are stuffed with meat such as pork, beef or chicken, as well as eggs and cheese.
Saltimbocca alla Romana: Cooked in Roman Style, these veal cutlets are topped with ham and seasonings and served in a white wine sauce. Veal is popular all over Central Italy and cooked diversely based on the area.
Vincisgrassi: A lasagna dish that contains cinnamon seasoned chicken stuffed between layers of pasta and topped with a béchamel sauce and nutmeg.
Pollo alla Porchetta: This style of cooking, Porchetta, uses fennel, garlic, rosemary, onions, white wine and rosemary to season the dish. Other meats are served in this style including rabbit, veal, pigeon, quail, and goose.
Visit our recipe section to learn how to cook some of these dishes and many other authentic Italian meals.
You can find the Recipe packs that contain your favorite Isola Products including Olive Oil, Balsamic, Truffles, Cheeses, and more!