Regional Cuisine of Northern Italy
Regional Cuisine of Northern Italy
Nov 1, 2018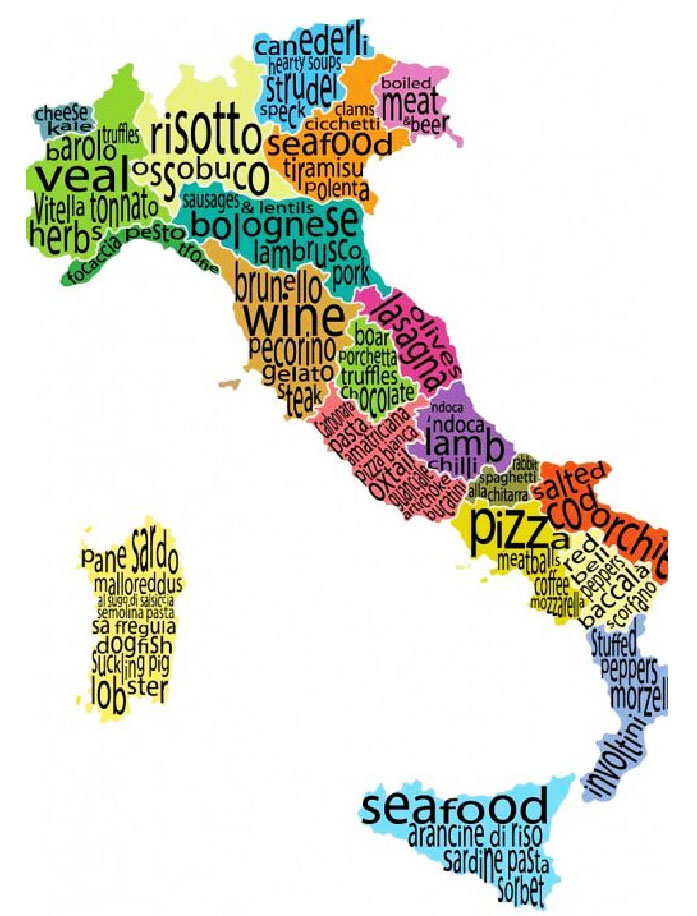 Italian food is more than pizza, pasta and tomato sauce. Each region of Italy has its own identity with distinctive flavors and products. Inspired by this diversity, Isola Imports was born. Isola meaning "island", we seek out these unique products from Italy to give customers an authentic Italian Experience. We have created this regional guide to display all the diversity of Italian food! Cook them for yourself or try something new on your trip to Italy.
NORTHERN ITALY
Northern Italy is more reliant on the use of butter than olive oil; which is a surprise to many travelers. Fresh butters of the north pair well with risotto (rice), polenta (corn) and in heavier sauces. This region geographically is near France, Austria and Switzerland which are all areas of culinary influence to Italy. In the mountains of the north, temperatures are not as warm as the southern tip of the peninsula which is why the focus is on earthy ingredients. A strong use of herbs, meats such as veal, and truffles complement many dishes and make them rich and unique. One of our favorite regions on the North, Piemonte, is famous for their diverse cheeses, grissini (breadsticks), speck, prosciutto, and wild mushrooms.
Read through 15 Famous Northern Italian dishes:
Torta Pasqualina:

A flan entree that contains a mix of cheeses, milk, vegetables and eggs. The eggs remain whole and the mix is cooked as so.
Finanziera:

This stew contains remaining organs of animals such as brain, spinal cord, testicles, chicken feet, and sweetbread.
Torta di Nocciola:

A cake cooked with hazelnuts from the region that created nutella! With a sweet blend of sugar and hazelnuts it is a very popular dish.
Focaccia-styled Pizza: The origin of the pizza we know today came from Italy. Originally served as thick bread with oils, anchovies, garlic, tomato slices, onions or other toppings you can still enjoy this style of pizza all over Northern Italy. If you ever find yourself in Piazza Costello in Torino grab a bite at Focacceria Gran Torino in the square. You will not be disappointed.
Panissa and Farinata: These dishes use garbanzo beans (aka chickpeas) as their base to create a pancake and polenta like dish. Many other dishes such as soups and pasta, in Northern Italy, contain a variety of beans as an excellent source of protein.
Erbazzione:

This is a pie filled with cooked spinach and cheese. It is enjoyed as an antipasti or a small snack.
Risotto alla Milanese:

This dish is well known for its key ingredient, saffron! The saffron gives the risotto its orange coloring and is well paired with beef because originally it was cooked with beef bone marrow.
Pea risotto:

Another risotto dish paired well with the cheeses you may find in Italy such as Parmigiano, Pecorino Romano, and Mascarpone. Peas, spinach and other rich greens are popular in Northern Italy and used frequently.
Bagna Cauda:

This traditional Northern Italian dip is served with vegetables and breads to create a more complex flavor. The main components of the dip are butter, anchovies, and garlic.
Spiced Frico:

Frico is a Gouda like cheese that is baked to become crisps. It is very popular on top of bread, salads, and as a snack with sliced meat.
Tortellini with Acacia Flowers:

A beautiful dish both in color and in taste. Originating in the Emilia-Romagna region of Italy, well known for its heavy Bolognese sauce, this dish is a light substitute that is truly gourmet.
Veal Osso Buco:

A main dish paired well with Risotto alla Milanese. The veal is cross cut and prepared with vegetables in a white wine/broth sauce.
Panna Cotta:

a rich and creamy dessert that is thickened with gelatin and then flavored. Popular flavors include vanilla, coffee and rum.
Tortellini del Zucca:

Pumpkin is a wonderful flavor that adds some sweetness to this dish. Pair with a pumpkin and truffle spread for a wonderful mix of that sweetness with an earthy kick.
Carne Cruda:

Translated as raw meat, that's exactly what it is. This steak tartare is mixed with herbs, truffle or oils.
Visit our recipe section to learn how to cook some of these dishes and many other authentic Italian meals.
You can find the Recipe packs that contain your favorite Isola Products including Rices, Butters, Truffles, Cheeses, and more!
Sources:

http://www.cnn.com/2014/01/27/travel/italian-regional-food/\
http://www.browsingitaly.com/piedmont/piedmont-cui...
http://www.jamieoliver.com/news-and-features/featu...