​Regional Cuisine of Southern Italy
​Regional Cuisine of Southern Italy
Nov 1, 2018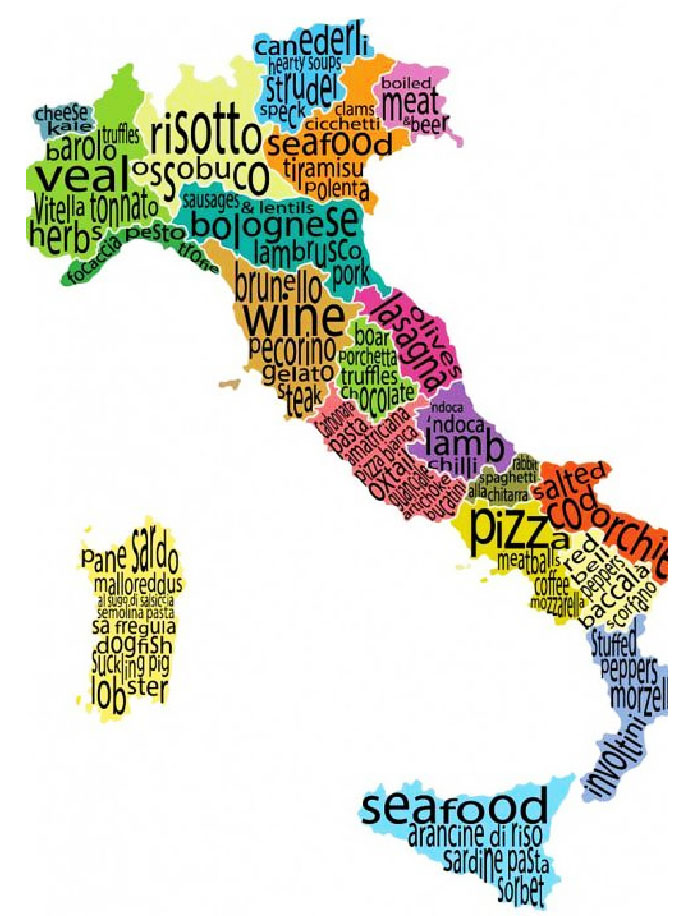 Italian food is more than pizza, pasta and tomato sauce. Each region of Italy has its own identity with distinctive flavors and products. Inspired by this diversity, Isola Imports was born. Isola meaning "island", we seek out these unique products from Italy to give customers an authentic Italian Experience. We have created this regional guide to display all the diversity of Italian food! Cook them for yourself or try something new on your trip to Italy.

SOUTHERN ITALY
In Southern Italy Olive Oil is the main base for most dishes and is overall king. The pride put into the Olive Oil in this region is very high because of this. In this region of Italy tomatoes, seafood, fresh herbs and overall light flavors are key. Many of the recipes are simple in the number of ingredients, but all are fresh and high quality, that they stand out beautifully. The meals are fresh, colorful, and considered the "soul food" of Italy with many dishes passed down for generations. In the south you will find rich and spicy tomato sauces especially in Calabrian which is known for their spicy peppers. These sauces pair beautifully with the fresh or dry pasta made from durum wheat or fluffy gnocchi made with potatoes. Fresh, citrus fruits shine especially the oranges of Sicily that are fantastic to add to a light salad or enjoyed at breakfast. Off the main land are Sicily and Sardinia, islands off of the "boot" of Italy and have their own diverse cuisine. Both of course have a wealth of seafood which are one of their main aspects of their cuisine. The other are the amount of vegetables that are able to grow well from the rich soil. No matter where in the region cooking with passion, love and commitment to quality is to truly cook like a southern Italian.
Read through 15 Famous Southern Italian dishes:
Gnocchi alla sorrentina

:

A rich dish made with fresh tomatoes and mozzarella, this name gets its name for the town of Sorrento on the Bay of Naples. Finish in the oven it creates a wonderful smell that will be hard to wait for.
Caprese salad:

This salad is the perfect example of simple but flavorful. The main components of this salad is basil, tomato, and bufala mozzarella. We carry real bufala mozzarella that really does make a huge difference because of the fine texture and taste. Top it off with some olive oil from Puglia to truly transport you.
Pasta di fuoco:

A fiery pasta, this dish is made with wonderful spice from Calabrian peppers. Calabrian food is also known as some of the spiciest in Italy, this dish showcases that spicy by making the peppers the spotlight.
Pizza Napoletana:

Pizza Napoletana is a classic pizza southern pizza made with mozzarella, tomato sauce, and a few other toppings. It is finish off in a wood burning oven which causes the crust to look slightly charred.
Street food:

Southern Italy is well known for the street food they have. Scaccia is a typical Sicilian street food, which is a rolled up pizza very similar to how New Yorkers fold their pizza. Another street food are the Panzerotti aka Calzones which are stuffed with cheeses, vegetables, and meats before being fried.
Granita:

It can get very hot in Southern Italy and Granita is just the thing you need. Similar to what Americans called Italian Ice, Granita is an icy treat that are made with fruits.
Cassata:

A traditional sweet cake from Sicily. Is has multiple layers including sponge cake ripping with fruit juices or liquers, and a cannoli filling inside. The cannoli filling consist of ricotta cheese and chocolate chips though it can differ based on preference.
Cannoli

:

Who doesn't enjoy Italian Cannoli? Homemade, these treats are stuffed with creamy ricotta in a hard shell. In the north many of the entrees are creamy while in the south many desserts are.
Sicilian figs and Orange salad:

Sicily is full of delicious fruits that are able to grow beautifully off the rich soil there. Sicilian figs and Oranges are always in high demand so if you every find yourself on the island be sure the grab a few.
Swordfish or codfish with tomato:

The Mediterranean sea is rich in fish and these particular fish are very popular. Kept simple with cooked tomatoes and some herbs.
Parmigiana di melanzane:

Fried or grilled, this eggplant dish is made with simply cheese, tomatoes, and thinly sliced eggplant.
Arancini:

Fried rice balls that are stuffed with cheese, these tiny snacks are enjoyed as street food, appetizers, or just as a snack.
Caponata:

A sauce made with eggplant, tomatoes, and other fresh vegetables.
Orecchiette:

"ear shaped" these tiny pasta are great with broccoli, garlic, shrimp, and olive oil.
Pasta Puttanesca:

This is a popular dish due to how quickly it takes to make and how simple the ingredients are! In under 30 minutes you can have a delicious seafood dish that is truly gourmet. Its name comes from the strong smell that the dish has and how the ingredients were easy to assemble, the dish has grown in popularity for its speed.
Visit our recipe section to learn how to cook some of these dishes and many other authentic Italian meals.
You can find the Recipe packs that contain your favorite Isola Products including Olive Oil, Balsamic, Truffles, Cheeses, and more!