Gin & Zenzero Creme Liqueur Chocolate Pralines
$5.95
Vergani Gin & Zenzero Creme Liqueur Chocolate Pralines



GLUTEN-FREE

NO TRANS FAT

VEGETARIAN

VEGAN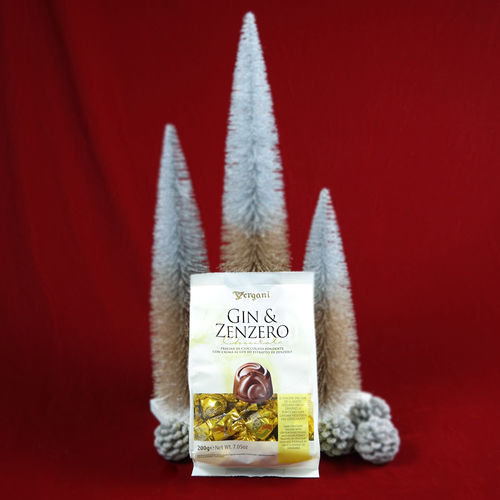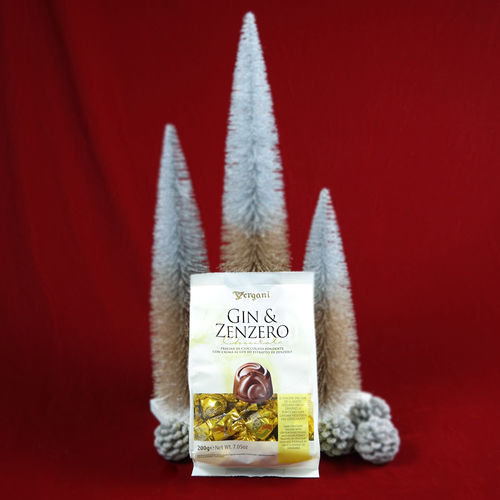 Vergani's Gin liqueur & ginger creme filled dark chocolate pralines are velvety smooth and will perk you up with the fresh taste of ginger and creamy dark chocolate. (20) Dark Chocolate pralines individually wrapped in decorative foil for each upright window bag. Share the boozy treats with friends and family or keep them to yourself to savor.



VERGANI - Gin & Zenzero Creme Liqueur Chocolate Pralines
With a gin & ginger cream stuffing and a dark chocolate coating, enjoy gorgeous bite sized praline pieces individually enclosed in shiny foils. Taste the sweet perfection of Vergani, Italian confectioners renowned for their praline treats, traditional confectionery and specialty sweets.
(20) Dark Chocolate pralines individually wrapped
Nutrition Facts
Serving Size 4 Pieces (37g)
Servings Per Package: 5 Amount Per Serving
Calories 200
Calories From Fat 90
% Daily Value*
Total Fat 0g
0%
Saturated Fat 6g
30%
Poly Unsaturated Fat: 0g
0%
Cholesterol 0mg
0%
Sodium 5mg
0%
Total Carbohydrates 20g
7%
Dietary Fiber 2g
8%
Sugars 16g
Protein
2g Iron 20% Calcium 2% * Percent Daily Values are based on a 2000 calorie diet. Your daily value may be higher or lower depending on your calorie needs:
Ingredients:
Dark Chocolate Pralines Filled with Gin and Ginger Liqueur Cream: Sugar, chocolate liquor, gin (alcohol, water, infusion of juniper berries), high-fructose corn syrup, vegetable fats (palm, palm kernel), cocoa butter, low fat cocoa powder, natural flavors, sorbitol syrup, natural ginger flavor, soy lecithin, ginger extract. Chocolate: cocoa solids 52% minimum

Contains: Soy

May Contain: Almonds, Hazelnuts, Pistachio, Peanuts, Milk & Wheat