Flavored Butters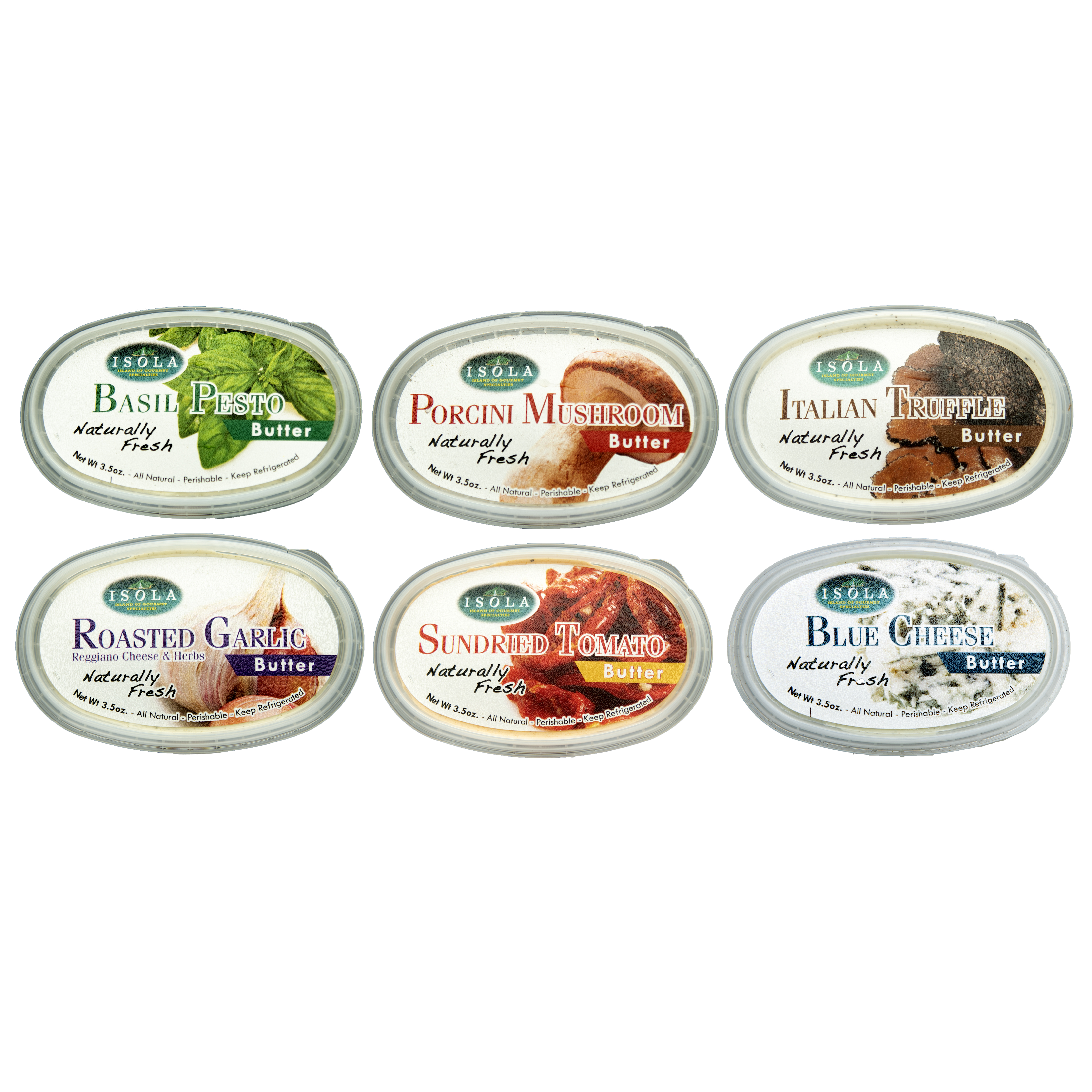 $6.50
3.5 oz
Fresh grade AA unsalted butter is the base for all six of Isola's gourmet blended butters. Sweet, creamy, soft and spreadable straight out of the fridge! Isola butters can be used any way you would normally use butter to achieve superior flavor profiles. Award winning, National Association for the Specialty Food Trade recognizes our butter as an outstanding product. Isola perfects the quality of traditional butter that chefs and home cooks expect! Use generously to flavor pasta, vegetables, bread, meat, seafood ~ whatever you envision!

GLUTEN-FREE

NO TRANS FAT

VEGETARIAN
Isola Truffle Butter
Requires Special Shipping - Please call 1.773.342.2121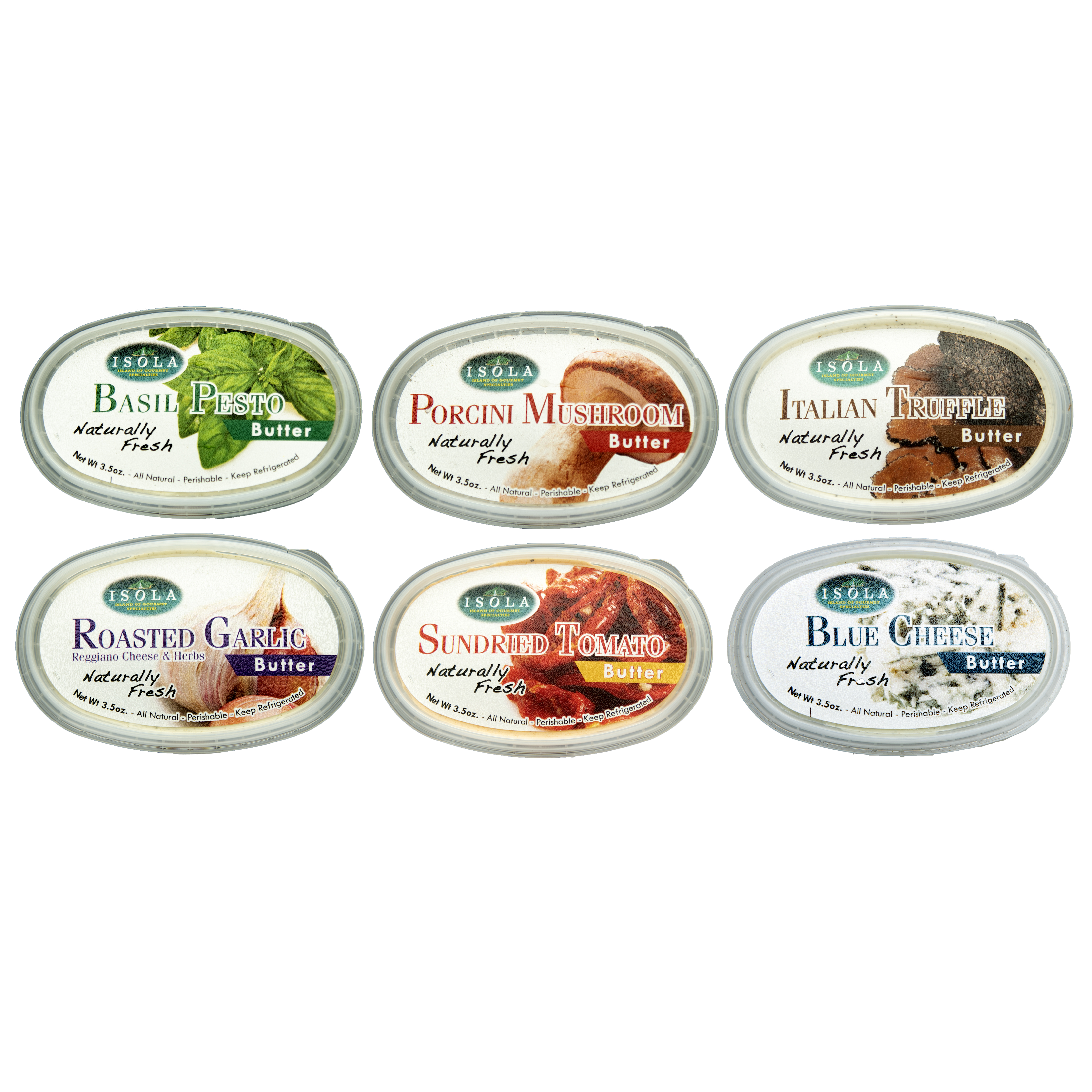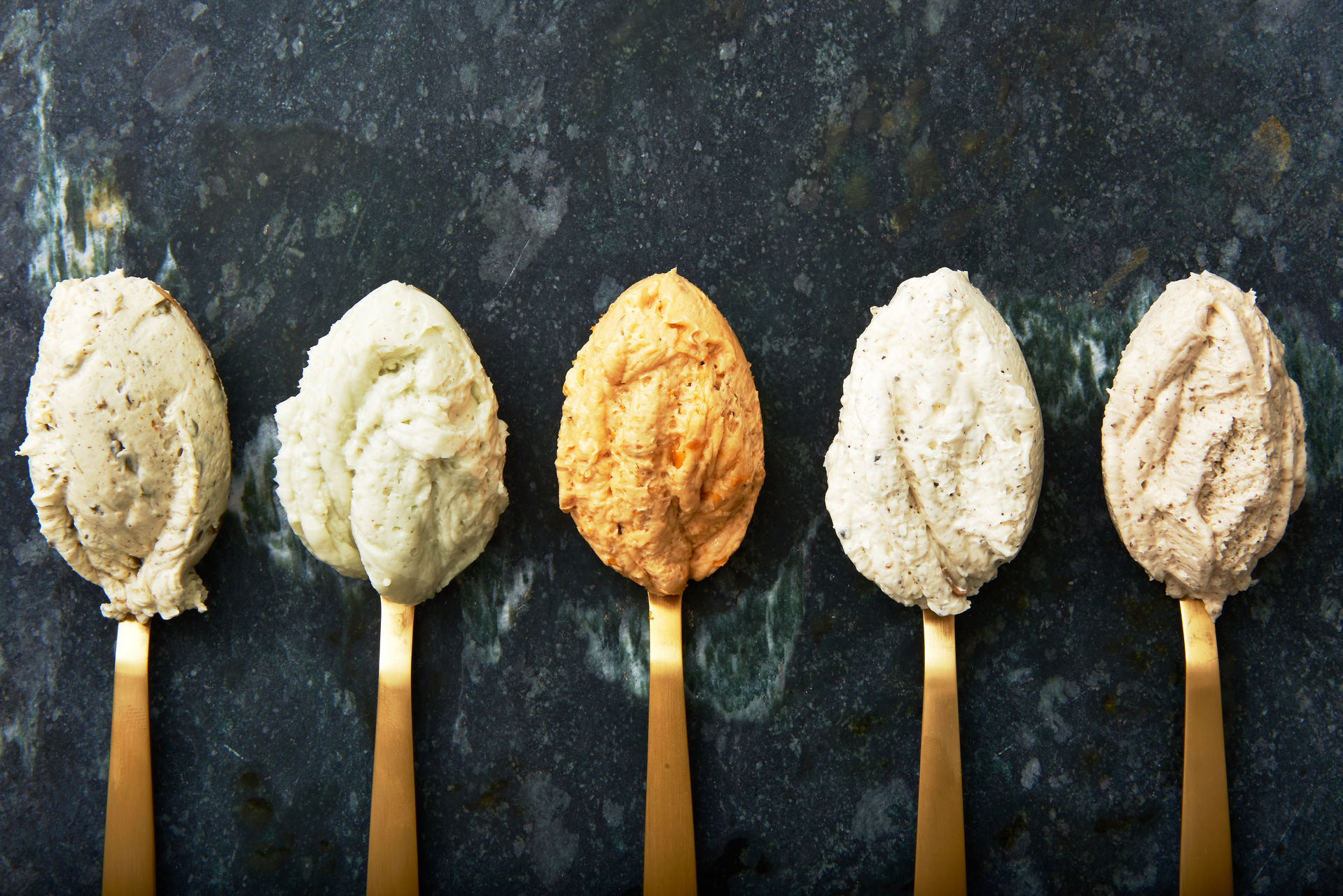 The savory sought for taste of truffle in a butter that can beadded to any panini, pasta dish and many more options. This butter is a delicacy and is made fromthe finest rare ingredients in Italy, such as white truffle butter oil, trufflepate, and Italian black truffles. Delivering a rich, earthy flavor, our trufflebutter will add a distinct taste that cannot be matched. Blended to perfection~This black truffle butter has won numerous awards and isrecognized as a unique must have in every kitchen!All PerishableProducts Sold by Isola Imports Will Only Ship Monday-Wednesday via UPS 2nd DayAir to Guarantee High Quality Service and Products.
One of my signature products, Truffle Butter is a simple delicacy that is appreciated in Italy for its sublime taste and versatility. Use it generously with pastas, risottos and garlic bread. Spread on toast for a classic Italian treat that you will came back to time and time again. At my house, truffle butter has a permanent place in the kitchen. I use it all the time to brighten otherwise dull food and to put an extra level of flavor into a range of Italian dishes. Sometimes I just dip a finger into the butter dish for a pure taste and if I didn't need my finger, I'd probably eat it! Butter is a copasetic with porcini; each has a taste and texture that compliments the other. Together, they produce a distinctive flavor that I liken to two singers forming a beautiful, seamless harmony. As with all of my signature products, I highly recommend this item for its quality and homemade goodness.
Nutrition Facts
Serving Size 1 Tablespoon
Servings Per Package: About 6 Amount Per Serving
Calories 100
Calories From Fat 100
% Daily Value*
Total Fat 11g
17%
Saturated Fat 7g
35%
Poly Unsaturated Fat: 0g
0%
Cholesterol 30mg
10%
Sodium 60mg
3%
Total Carbohydrates 0g
0%
Dietary Fiber 0g
0%
Sugars 0g
Protein
0g Vitamin A (0%) Vitamin C (0%) Calcium (0%) Iron (0%) * Percent Daily Values are based on a 2000 calorie diet. Your daily value may be higher or lower depending on your calorie needs:
Ingredients:
Grade AA Unsalted Butter, Italian White Truffle Oil, Italian Truffle Pate(crimini mushrooms, sunflower oil, salt, pepper, black truffles, ascorbic acid, citric acid), Italian Black Truffles, Hydrolyzed Vegetable Protein, and Natural Truffle Flavor.
THIS PRODUCT CONTAINS DAIRY
WHAT OUR CUSTOMERS THINK
"Good morning! I love your truffles. So far I have thoroughly enjoyed the small whole ones jarred, pates & the butter. I was very excited to see the new addition of them with Mozzarella di Bufala! Keep up the wonderful work!!! Mitch A., Hinsdale, IL"