Cream of Balsamic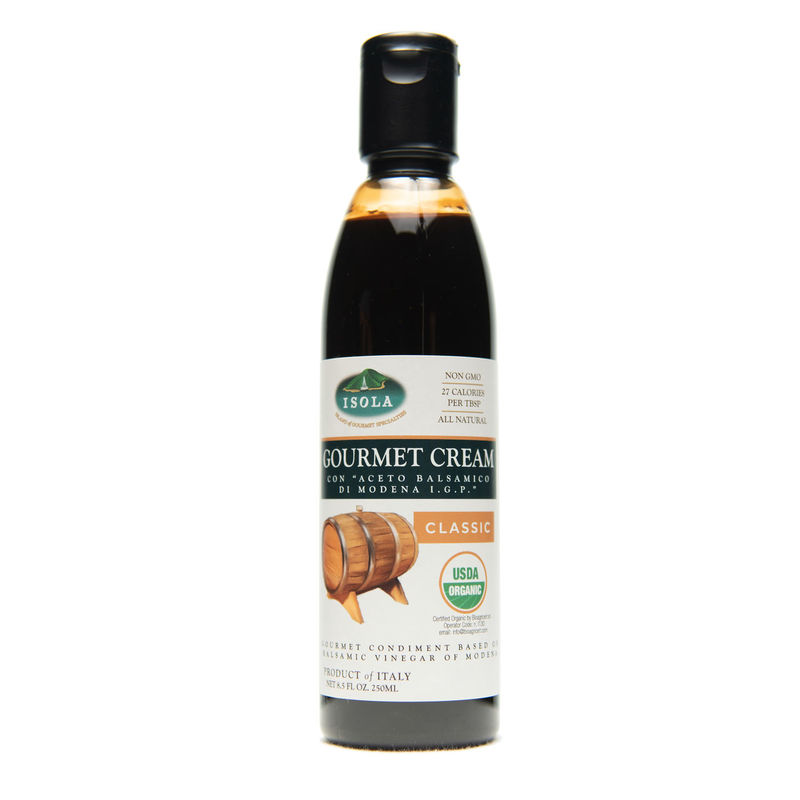 250ml
Pure, rich in color and taste with sweet finish

GMO FREE

GLUTEN-FREE

NO TRANS FAT

VEGETARIAN

VEGAN
Isola Organic Classic Cream of Balsamic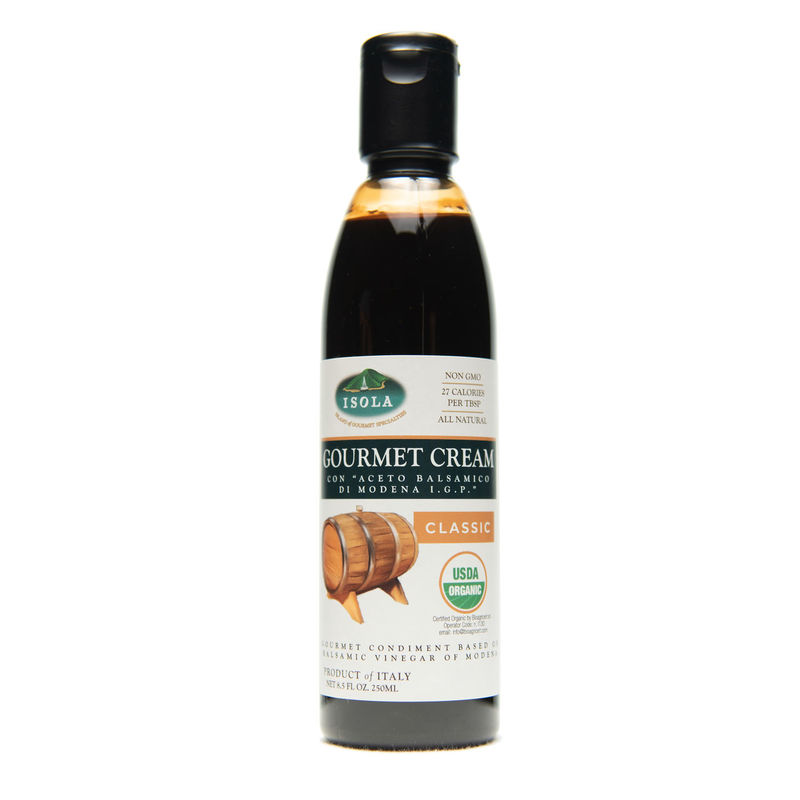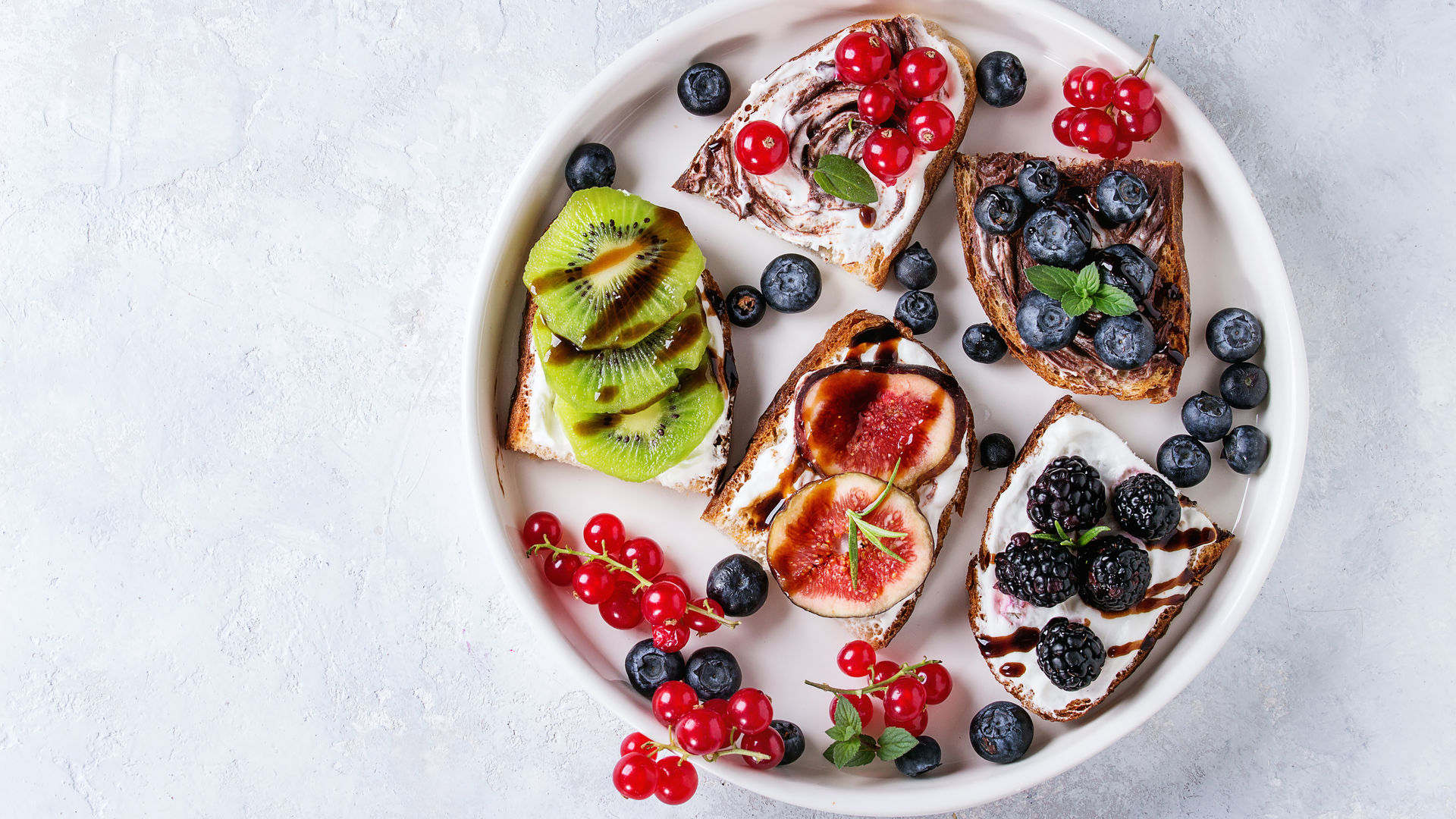 This unique item is one of our most popular! Originally created for chefs to be a beautiful and savory addition to meals, our Cream of Balsamic is unmatched. Try any of our three flavors and soon it will be a staple in your kitchen.**SEE VIDEO IN PRODUCT DETAILS**
Produced with the same devotion to quality that goes into our finest balsamic, this cream is truly sublime. Slowly made from a mixture of concentrated grape must and aged balsamic vinegar of Modena, this delectable, mouth watering cream is a perfect compliment to cheese, fresh strawberries, fruit salad even ice cream. Savor the memory, taste the tradition. Product of Italy.
Nutrition Facts
Serving Size 1 Tablespoon
Servings Per Package: 17 Amount Per Serving
Calories 27
Calories From Fat 0
% Daily Value*
Total Fat 0g
0%
Saturated Fat 0g
0%
Poly Unsaturated Fat: 0g
0%
Cholesterol 0mg
0%
Sodium 0mg
0%
Total Carbohydrates 10g
3%
Dietary Fiber 0g
0%
Sugars 7g
Protein
0g * Percent Daily Values are based on a 2000 calorie diet. Your daily value may be higher or lower depending on your calorie needs:
Ingredients:
Organic Balsamic Vinegar of Modena (50%) (Organic Wine Vinegar, Organic Cooked Grape Must), Organic Cooked Grape Must, Corn Starch.

CONTAINS NATURAL SULFITES
WHAT OUR CUSTOMERS THINK
"One of the best things I have ever tasted. I serve it to my guests, usually over berries, and everyone loves it. I have gifted this and will do so again at Christmas."

"As a appetizer for a dinner party last night, I made Pancetta Wrapped Peaches with Basil and drizzled with the Cream Balsamic. They were a BIG hit with everyone. Thank you"

"My son introduced me to these products and I love them! You will not find a richer, better tasting balsamic. In addition to the traditional ways to use them, we drizzled some over ice cream and strawberries. What a taste treat! It's a reduction as good as if not better than I make myself - without smelling up the kitchen! Thanks so much!."

"I love the finish it gives to my caprese salad as well as the flavor it adds to my everyday salad without any added fat! I look forward to trying the other flavors in your product line!"