Isola Signature Bufala Mozzarella
$8.95
250g
Fresh, smooth taste with a soft textured

GMO FREE

GLUTEN-FREE

NO TRANS FAT

VEGETARIAN
Isola Signature Bufala Mozzarella
Requires Special Shipping - Please call 1.773.342.2121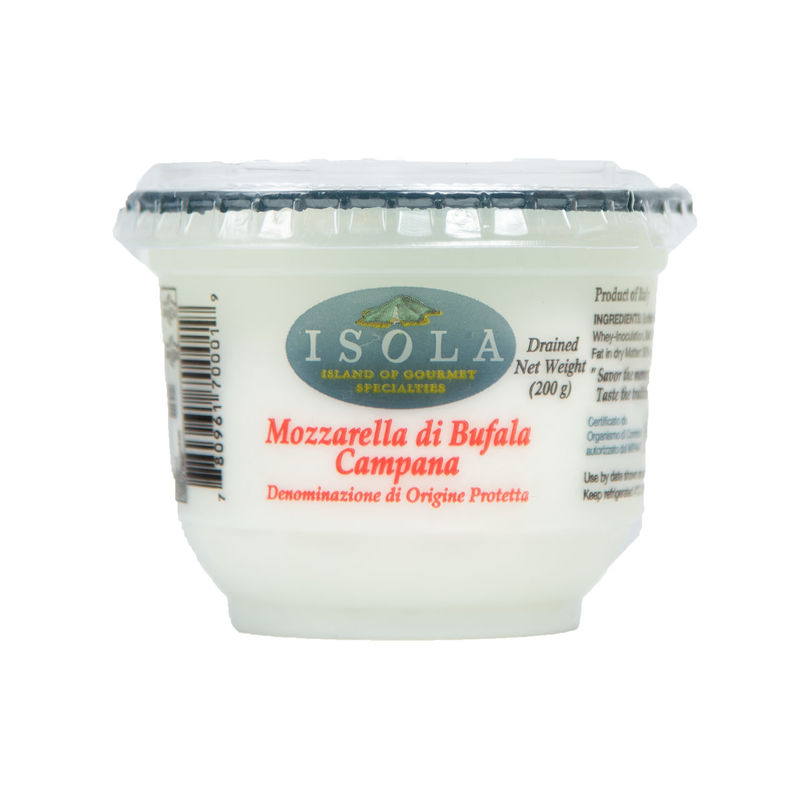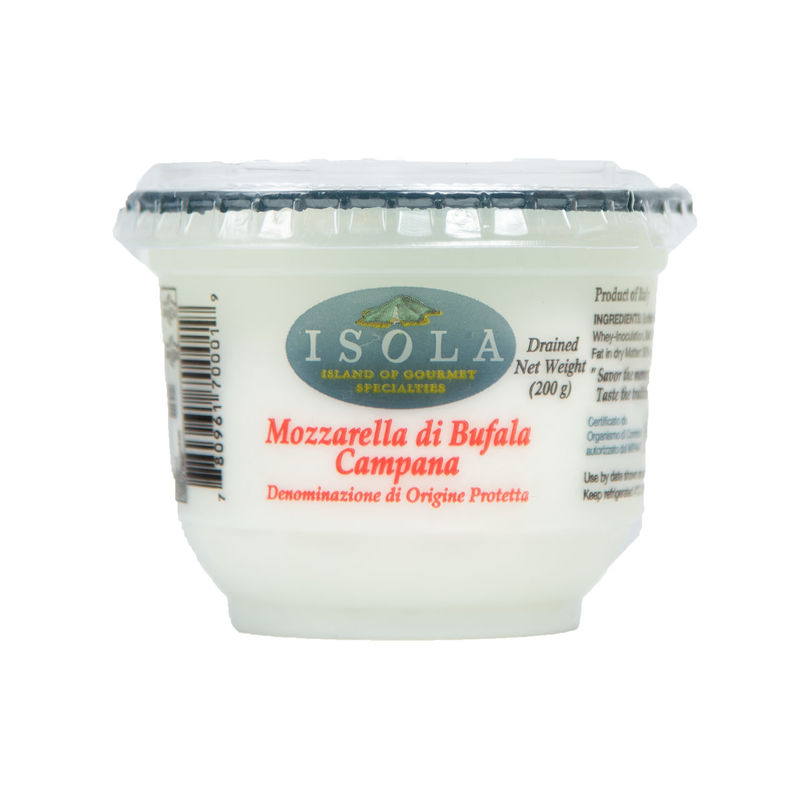 Buffalo milk, of course, is crucial to producing a deep, complex flavor that is both sweet and pleasantly sour, with a mossy nose and creamy mouth feel. A little olive oil and salt is all you need to make this delicate cheese sing.True Mozzarella Di Bufala Campania is hard to find, as it is only produced in remote regions in and around Campania using a traditional recipe.This makes it one of the most unique, delicious mozzarella on the planet. IsolaImports is one of the only places to get authentic Bufala Mozzarella from the best makers in the world. A simple yet elegant treat that will bring an instant smile to the most discerning mouth! But this cheese is a hot commodity. Shop our Mozzarella di Bufalabefore we run out!
All Perishable Products Sold by Isola Imports Will Only Ship Monday-Wednesday via UPS 2nd DayAir to Guarantee High Quality Service and Products.
In the Avellino province the cheese makers' skill is the heart and soul of our highly prized fresh mozzarella. Small producers achieve a unique taste and texture through a centuries-old process known as Pasta Filata; the curds are broken up, gently heated and spun. Buffalo mozzarella or Mozzarella di Bufala in Italian is a mozzarella made from the milk of domestic water buffalo. It has been observed that those cheeses made from buffalo milk are higher in calcium, protein and lower in cholesterol than cow's milk. Mozzarella di bufala is manufactured under strict regulations in areas ranging from Rome in Lazio to Paestum, Campania and a production area near Foggia, Puglia. Buffalo mozzarella coming from the Campania region bears the "Mozzarella di Bufala Campana" trademark and DOC status granted in 1993. In 2008, the European Union granted Mozzarella di Bufala Campana a Protected Geographical Status. Apart from Italy, it is also produced in many countries.
Nutrition Facts
Serving Size 1/2 Cup (100g)
Servings Per Package: 2 Amount Per Serving
Calories 288
Calories From Fat 223
% Daily Value*
Total Fat 0g
0%
Saturated Fat 17g
85%
Poly Unsaturated Fat: 0g
0%
Cholesterol 52mg
17%
Sodium 256mg
11%
Total Carbohydrates 0g
0%
Dietary Fiber 0g
0%
Sugars g
Protein
16g Vitamin A (17%) Vitamin C (26%) Calcium (16%) Iron (6%) * Percent Daily Values are based on a 2000 calorie diet. Your daily value may be higher or lower depending on your calorie needs:
Ingredients:
Buffalo Milk, Natural Whey- Inoculation, Rennet,salt, 52% Min. Fat in Dry Matter.
Contains Dairy.

Pasteurized Cheese.